Hoogbegaafd kind?
Ongeveer 2 a 3 procent van de bevolking is hoogbegaafd. Dit betekent dat er op een gemiddelde basisschool van 200 kinderen niet meer dan 4 tot 6 kinderen hoogbegaafd zijn.
Om te onderzoeken of je een hoogbegaafd kind bent, wordt je IQ (intelligentiequotiënt) gemeten via een test. Meestal is dat de Wisc III (de Wechsler IQ test voor kinderen van 6 tot 17 jaar). We spreken van een hoogbegaafd kind als er bij deze kinderen een score van 130 of meer wordt gemeten.
Hoogbegaafdheid is aangeboren. Vanaf het allereerste begin reageren hoogbegaafden anders dan anderen. Hoogbegaafdheid moet niet verward worden met een grote algemene kennis.
Een hoge intelligentie is een voorwaarde voor hoogbegaafdheid. De Amerikaanse psycholoog Renzulli stelt dat ook aan andere voorwaarden voldaan moeten worden, zoals te lezen is in onderstaand model. Creativiteit en motivatie zijn ook van groot belang.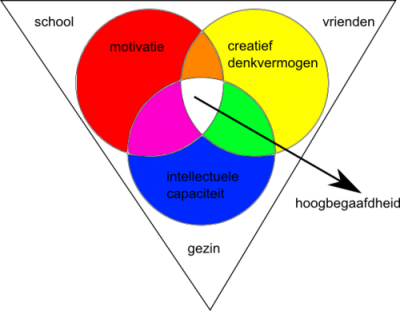 Test hoogbegaafdheid?
Zou je een eenvoudige test willen doen?
Wij hebben 2 testen gemaakt waarmee je een idee kan krijgen over je hoogbegaafdheid.
Werkwijze
Villa Kakelbont heeft een unieke werkwijze want elk kind is uniek.
Meer informatie over onze werkwijze?
Direct een afspraak maken?
Of liever eerst meer informatie over hoogbegaafdheid?
Neem contact met ons op via ons contactformulier.